It is a truth universally acknowledged that Christmasttime turns me into Buddy the Elf. I'm not even remotely kidding about this.
Smiling's my favorite. I've got no shame.
Which is why I am so excited to announce that I'll be teaming up with one of my very favorite blogger-turned-internet-friends,
Carolyn
, to host a blog secret santa swap this holiday season! And get this: Carolyn and I actually found each other's blogs through a secret santa swap that I hosted a few years ago. She was my secret santa, and got me the most incredible etsy print that still hangs on my walls to this day. Internet friendship, you guys. It's a great thing.
Interested in joining us? Here are the deets:
We'll be accepting the first 20-30 people who email us at
marychristmascarol@gmail.com
. I expect we'll likely fill up quickly, so if you're interested, email us ASAP! Then we'll email you to let you know you're in & send you a quick questionnaire to fill out about your interests, wish lists, likes/dislikes as well as your contact info and details of the swap.
After we've gotten everyone's questionnaires, we'll be splitting the group in two and sending out emails telling you who you'll be gifting to-- but who will be sending your gift to you will stay a surprise until you receive it, of course! Secret Santas will be assigned no later than 12/5, we ask that you send your gifts by 12/12.
Over the course of the next few weeks, we'll post pictures, share tweets and give fun gift ideas for everyone involved. Carolyn and I might blog about different things overall (side note: go read her
blog
, she's lost a ton of weight and is insanely inspirational/fantastic and just TRUST ME), but we know our readers are all cut from the same polka-dot-spirited, sunny-side-of-the-street, all around fabulous cloth. So it's not only a great way to put on your sneaky holiday elf shoes and get into the holiday spirit, but a fantastic way to get to know other bloggers and blog-readers just like yourselves, you gorgeous popsicles.
Best part: anyone can join-- you don't need to have a blog to participate! We really just love these blogging communities we've found on the internet and wanted to do something fun to bring everyone together around the holidays. At the end of the swap, however, Carolyn and I will be putting together some fun recaps on our blogs of what everyone has received-- so whether you blog, instagram, tweet, facebook, etc, about your experience, make sure to let us know. We'll pull all the links together, highlight some of our favorite parts of the swap and share for everyone to see!
PLUS! (Is it obvious that I can't contain my excitement?) Share sneak peeks of your secret santa shopping, sending, receiving, etc. on twitter or instagram using the hashtag #MCSecretSanta so everyone can see what you're up to! We'll be checking in, commenting and retweeting everyone's posts all throughout the month.
Go ahead & grab our button and share it on your blog or other social media outlets & let others know what fun, Christmas-sy goodness you're up to! Or just because it's cute, because for real--isn't it adorable? Clearly, made by Carolyn, because yours truly couldn't MS-Paint my way out of a box if my life depended on it.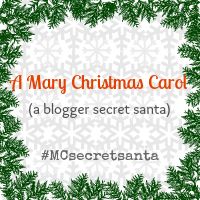 What are you waiting for? Go ahead and
email us
to claim your space!
Questions? Let us know & we'll be happy to answer them! In the meantime-- let's get swapping! :)